How to build an awesome newborn photography studio?
As I was thinking of writing this post to share with you a visual tour of my newborn photography studio, I had many different ideas in my head. As I approached my husband, who moonlights as my assistant (free, dedicated assistant!), he asked me a simple question that nailed it. His exact words were, "What do you want the reader to take away from the post? Just that your studio looks nice, clean, spacious, organized, colorful? Or have them learn about the good choices we made, and the bad ones we made but learned from? Is it post just for other photographers? Or is it also for families who are looking for a newborn photographer?". The last question is important. A well designed, well organized and newborn photography studio with lots of props increases several folds the likelihood of an awesome newborn photography session.
So, I started compiling a list of questions. What will help the photographer community as they read this post? For example, what makes a newborn photography studio (or maternity photography studio for that matter) good? Do you opt for a large open space which has a spacious feel, or a well-organized, color coordinated studio? Should I rip out carpet and make room for the hardwood? Is there a color for the walls that is better than others? Should I separate the work space and main office from the studio? These and many other questions are those that I grappled with myself when I moved my studio to Basking Ridge, New Jersey. Of course, these are general guidelines, and "The World According to Harshita", the NJ newborn photographer.
But before we start, an important announcement. Also sometimes known as shameless plug-in 🙂 Our newborn photography studio has the largest variety of hats, headbands, and props. UPS, USPS, or FedEx – all of the delivery drivers know our house. 160 – that's just the number of blankets in the studio.
1) Build the photography studio how you want
Each one of has a color palette in our minds that matches our unique personality and style. In my case, especially as a newborn photographer, I like the serene effect that white or other neutral colors create for a newborn photo shoot. The same thing goes for my surroundings.
When I started, the walls in the studio were dark green in color with brown carpet. Yuck! Of course, it was a no brainer to rip out the carpet. Replaced with oak hardwood floors. Tip: do not go for the Mullican's hardwood. We tried that initially and the resulting look wasn't as smooth and finished. In addition, the lighter colored floors give the studio a spacious look and feel, but they are not available with Mullican's standard width floors.
Next, came the walls. The green was covered with lots of white paint. Lesson learned: I made a big mistake in assuming that all paint is created equal. Well, you get what you pay for. Tried using the Behr paint from Home Depot. 5 gallons later and 3 coats later, realized it wasn't worth it. Made the switch to Sherwin Williams and never looked back. So, seriously run far, far away from the "Behr" into the arms of "Sherwin".
2) Plan your furniture shopping in advance of the painting the room
We knew going in that the room was going to be painted white. Paint, however is easy to get. With furniture however, there are lot more factors to consider – texture, style, the right shade of color, and most importantly price and availability. Tip: Don't limit yourself to a certain segment of stores like Pier 1, Crate & Barrel, etc. And don't discount Ikea.
The furniture you see below is a mix from Pier 1, Amazon, Home Goods, and other online stores. Be careful however when shopping from Home Goods. On multiple occasions, we found furniture that had some structural issue. Contrast that with Pier 1, where we consistently found the quality to be good and reliable. Ikea is a good bargain only when I can find furniture that is not made out of particle board.
3) Newborn photography props are awesome, but they need organization

I admit that I am crazy about buying props, headbands, backdrops, rugs – are you wondering what's not on the list? You are not alone. My husband often jokes that the UPS/FedEx guys probably plan their route around us by now. But I can't help myself. I love babies – newborns, 3 months, cake smash. I want to dress them up in different colors, styles and pose them in interesting props such as a Batmobile, or a princess carriage. Every newborn has a personality, and you have a gut feel about what color and prop will look best for the little one. When my clients see the newborn photos, they should be wowed. Newborn photography is the first photo shoot for a baby, and they have to shine. Cake smash is the first time they taste sugar. Both of them are special moments in a child's life. How would you feel that a certain color or prop was missing and it prevented you from creating that perfect picture? This is the justification I give my husband as well 🙂
But there's a key problem to solve if you want to continue shopping. You need organization! Most of the shelves and items are from Ikea. The big one you see above is from the Kallax series. Reasonably sturdy, and you can customize it to your needs. In addition to the core shelf being a good one, you can add doors to it, insert boxes for storage, etc. – it offers lot of opportunities for customization. Trivia – big points if someone can identify the scheme in which I've organized the blanket colors. Hint: think rain and sunshine!
Next up is "my precious drawer" Hemnes series chest of drawers from Ikea. Took a significant amount of time to assemble it, but I love it. From what I can tell, this is not made out of board but actual wood. That makes it reasonably sturdy. The look and feel is a good mix of modern and classic. There are three sizes of drawers – the bottom being the largest, the middle slightly less deep, and the top drawers best for storing smaller stuff like cute lovies who want to hide in my studio. Tip: Buy the glass top as well. It will save you lot of effort and you can confidently put items on top without having to worry about getting dirt on it. Oh, and speaking of cuties, here you go!
For storing and displaying the caps, pants, and headbands, I use the Kvartal rail, Kvartal Glider & Hook with Riktig curtain hooks (see below). Clean, neat and easy to organize. The color coding system here is similar to what I used for organizing the blankets. Tip: As you organize here, leave a few Kvartal hooks empty in between for items you may buy in the future.
4) Lighting & Equipment
The setup below looks very simple, doesn't it? That's the beauty of it. There are so many neat things it though. Let's start first with the lighting.
On the left is a 4 x 6 Wescott soft box I primarily use for maternity and newborn photography sessions. Holding up the soft box is a heavy duty Titan light stand with wheels. On the right is a Lastolite HiLite background I use for back lighting for maternity. With the combination of these two, you can achieve many different lighting configurations including feathering, hi-key lighting and back lighting. For an in-depth discussion on lighting check out my other blog, "How to get better studio lighting with two simple setups".
In the background is the auto pole seamless paper hanging system from Manfrotto.  A much better alternative to digging holes throughout your entire studio. Also much easier to move around the studio, or swap out different backdrops.
5) Selecting the best props from the various vendors
There are two things I love to scout for all the time. The best locations for maternity photography, and the best props for my photography studio. I would be quite surprised if any studio in the tri-state area has a widest variety of newborn photography props, blankets and headbands. Well, a girl's gotta shop, you know!
This wide selection of 160 blankets (yes, that's not a typo) gives newborn parents and I a lot of creative options when photographing newborns. Most of these blankets are from Roses & Ruffles.
By the way, if you think that many of the colors here look similar, then the following is what I have to say to you, "But what you don't know is that that sweater is not just blue, it's not turquoise. It's not lapis. It's actually cerulean." (Devil Wears Prada – (c) Twentieth Century Fox)
Or you can just watch this video.

Just like the blankets, the large collection of props (below) also helps me create unique combinations for newborn sessions.  Each one has helped me create lovely memories for parents all around the country, from Texas all the way to New York. Just don't ask me to choose a favorite.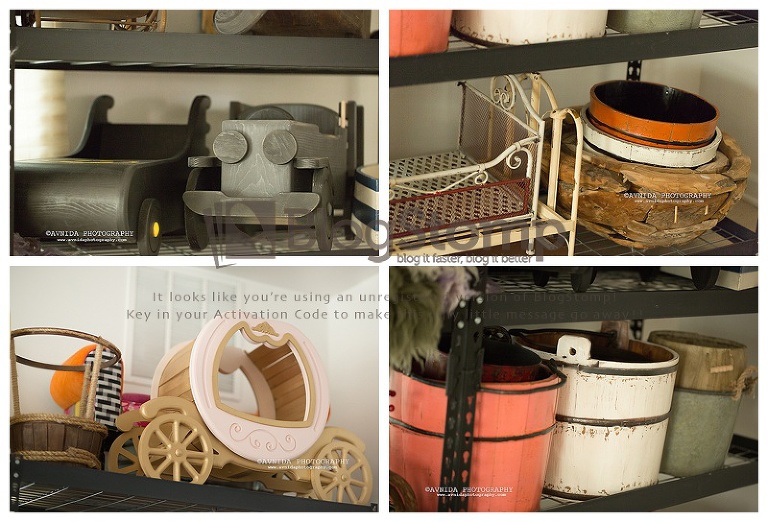 Most requested props like moon, princess carriage and truck  which are from mr and mrs co. Bowls and buckets are from different vendors like jdvintage, home goods and design revolution. The large  collection of props helps me to create from simple organic blankets shots to very prop oriented pictures.
Tieback, headbands, hats/bonnets and little adorable outfits for newborns are different vendors like pooks and lulu, no 2 willow lane, the knitting bitty, Mia joy and goodnight mouse baby knits.
6) Last but the most important, remember, newborn parents don't get much sleep 🙂
One of the most important things about a newborn photography studio session is parent comfort. They are the ones who haven't had much sleep, yet they are on top of the world. That means comfortable furniture – a couch and an ottoman to stretch their legs.
And of course, a coffee machine. What better than a Keurig coffee machine, where they can have their choice. Tea, coffee (cause America runs on Dunkin, you know), and hot chocolate! You would be surprised how many clients feel so happy to have a coffee machine especially since newborn photography sessions can often start at 7 am!
Of course, what is coffee without snacks to munch on, right? That includes a range of healthy snacks including Pure Protein bars for that much needed energy, and some Rice Krispies because we all need to indulge a little.
dd